Nik Collection 5
Major upgrades to Colour Efex and Analog Efex, improved local adjustment technology, and a smoother user experience.
The latest version of the renowned suite of eight plug-ins for Adobe Photoshop® and Lightroom Classic® also features a brand-new tool to reduce haze and 29 faithfully reproduced colour film grains.
Powerful and diverse, the eight plug-ins of Nik Collection 5 also function as standalone apps and offer unlimited creative potential. More than 300 pre-sets give instant results, while intuitive sliders and DxO's exclusive U-Point technology for local adjustments bring endless creative opportunities and the ability to refine every detail.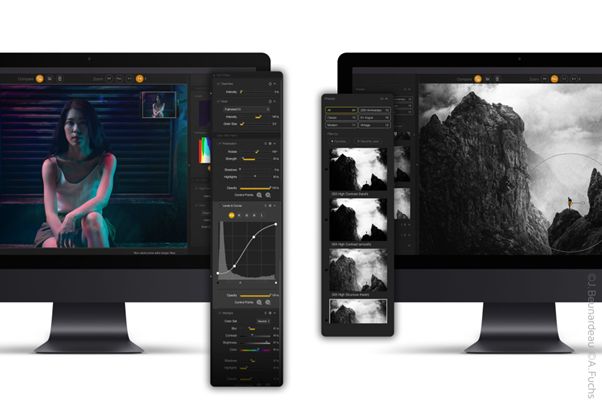 Revamped user interface for a more refined editing experience
The user interfaces of Nik Color Efex and Nik Analog Efex have been rebuilt from the ground up, bringing them into line with the recently updated Nik Silver Efex and Nik Viveza. Nik Color Efex is a powerful means of enhancing and manipulating colour and continues to be Nik Collection users' most popular plug-in, while Nik Analog Efex is unique in its potential to recreate vintage photographic effects. Thanks to the newly refined and functional user experience in both of these plug-ins, pre-sets are now more accessible with improved options for saving and editing favourite settings.
Local adjustments just got even smarter thanks to U Point™ technology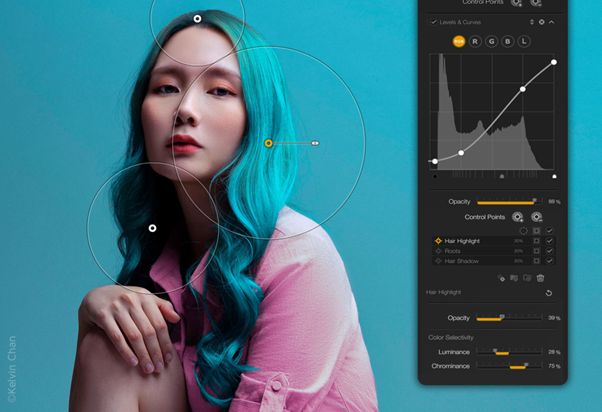 U Point™ technology, the pioneering local adjustment tools that make targeted changes feel intuitive and efficient without using masks, continues to evolve in Nik Color Efex and Nik Analog Efex. Control Points can now be renamed, making them easier to manage, and users can also save them as part of a pre-set, speeding up workflows. The addition of two Colour Selectivity sliders — Luminance and Chrominance — gives users greater control over the impact of local adjustments, and the interface has been updated so that creating and editing a Control Point is a clean and distraction-free experience.
Two more major boosts to Color Efex: ClearView technology to remove haze and 29 authentic colour film grains
Haze in photographs is simple to remove when using Nik Color Efex thanks to the addition of ClearView, technology borrowed from DxO PhotoLab 5. Fog, mist, smoke, and pollution are intelligently reduced using a simple slider, returning contrast and colour to photographs. Color Efex also benefits from 29 new, authentic colour film grains created in DxO's purpose-built laboratories, giving analog era enthusiasts a host of new creative options.
Nik Perspective Efex adds more than 4,300 new camera and lens combinations
Nik Perspective Efex benefits from the ongoing research conducted in DxO's exclusive labs with more than 20 new cameras and 60 lenses added to its database of supported equipment. The plug-in can now automatically correct the geometric distortions of more than 70,000 camera and lens combinations.
DxO PhotoLab 5 ESSENTIAL joins the party
Those shooting RAW get to experience the power of DxO PhotoLab 5 ESSENTIAL, the feature-rich photo-editing software that contains DxO's renowned Optics Modules and U Point™ technology for precise local adjustments.
About Nik Collection:
First created more than 25 years ago, Nik Collection is a suite of eight innovative plug-ins, each quickly launched from within Adobe Photoshop®, Adobe Lightroom Classic®, or DxO PhotoLab, or as standalone software. Plug-ins are packed full of innovative filters, tools, and pre-sets that give photographers endless creative potential. The latest updates build on the success of Nik Collection 4 which brought interface improvements and the option to save local adjustments using U Point™ technology as part of pre-sets. It also introduced Meta Pre-sets which allow users to combine changes from multiple plug-ins and apply them to an image in Adobe Photoshop® with a single click, and fresh functionality in Adobe Lightroom® to copy and paste settings and quickly apply recent edits for a smoother workflow.
Nik Collection 5 (Windows and macOS) is now available for download on the DxO website (https://shop.dxo.com/) for £ 135.
Photographers who already own Nik Collection 4 can upgrade their software by signing into their customer accounts for £ 69.
A fully functional, one-month trial version of Nik Collection 5 is available on the DxO website: https://nikcollection.dxo.com/download/.